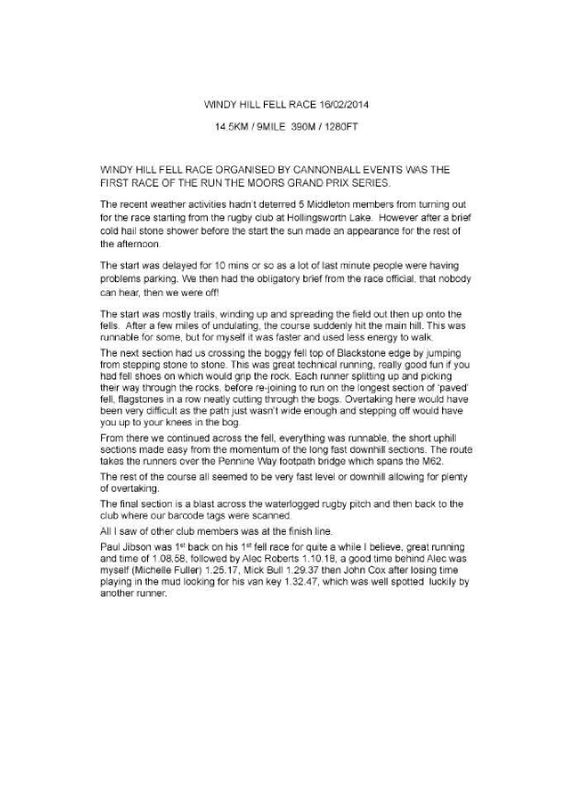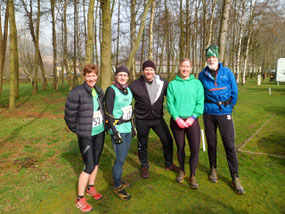 Lads Leap 2014
This was the second club championship race in the fell section. Six Middleton Harriers took part, including Paul Jordan (PJ), Paul Taylor (PT) Paul Collinge (PC), John Cox , Michelle Fuller and Elaine Blades-Jordan.
The course was not for the faint hearted it was a short but tough race. The weather was glorious throughout. The first Middleton Harrier male to finish was Paul Taylor in a time of 68:01, this was Pauls first Middleton Harrier fell race, so well done Paul. The second male Middleton Harrier to finish was Paul Collinge shortly followed by John cox.
The first Middleton Harrier lady to finish was Michelle Fuller in a time of 73 minutes, also finishing 2nd in her age group. I think Michelle must have eaten her Weetabix this morning as unlike Elaine Blades-Jordan who just managed to get round and finish the course, Michelle cruised round the course and felt it was like a good warm up, go Michelle !!.
Unfortunately Paul Jordan had a pulled calf muscle during the warm up and decided not to start the race, he wasn't the only one, Infact at the start of the race one man fainted (possibly at the sight of the first hill) resulting in smacking his head and nose on the floor, which resulted in another man fainting at the sight of the blood!! (Who said fell runners were tough, he he).
Thankfully everyone was ok. The race was well flagged and a very friendly bunch, it was definitely worth going, and if you've never done it before i strongly recommend having a go.

Wardle Fell Race: 12th April: 7miles: 1250FT
A very popular race, 3rd in the Run the Moors Grand Prix series, hence the 10 Middleton Harriers joining 165 keen runners for what would be for some a bit of an adventure
1st Paul Jibson: 55.27
2nd Anthony Lowe: 57.06
3rd Paul Taylor: 58.46
4th Paul Collinge: 63.55
5th Mick Bull: 68.24
6th Barrie Fairbrother: 70.08
1st Michelle Fuller: 63.54
2nd Elaine Jordan Blades: 78.59
Adrian Bowcock and Ruth Hare went on an adventure, as did quite a few of the runners, including some of the front-runners.  After following flags, which were placed by the Turbine contractors, (this is the story they told anyway) they both ended up at the Summit pub in Littleborough, but returned safe and sound with a little help from mountain rescue.  Hope this hasn't put Adrian off and he will return for another fell race.
Thank to the support crew, John and Helen Cox taking pictures on the hill and Roy, Peter and Wendy for cheering us into the finish line.
Edenfield Fell; June 2014
Edenfield fell race took place on Sunday the 1st June 2014 at 10:30 am. The race was held with the help of the local community.  Altogether Six of the harriers took part including Paul Taylor, John Cox, Craig Sutherland, Paul Collinge, Elaine Blades-Jordan and Karen Hallett. Before we began a minute silence was held for Roy Lee. The 6.3-mile route then started from the cricket club in glorious sunshine and was very hot throughout.
The route steadily climbed up through tracks and moors towards Cowpe Lowe, Paul Taylor led the way for the harriers followed by Paul Collinge, John Cox & Craig Sutherland. Whilst John Cox started slow by half way he had soon put that motor on and whizzed past others as he began to warm up.
The route then went down towards part of the Pennine Bridleway, up past Waughmans well and onto the boggy moors towards Whittle Cross. From there lots of grassy tussocks on the decent of which many a boggy bit hence the muddy legs especially from Elaine Blades-Jordan who managed to find a knee dip section of mud, she was not on her own either!!
After this muddy bit there was a short bridge crossing (well done Craig Sutherland I know you don't like bridges!!) Finished off with a calf burning all fours scramble - not for the faint hearted!!. 
After the scramble the run finished by winding tracks back towards the cricket club and thankfully the killer cows where all indoors (ha ha)! Everyone made it back including Karen Hallett who did extremely well for her first fell race. 
Sandwiches, beer and refreshments for all and for anyone who likes Cricket a Cricket match to commence shortly afterwards!! What a great day, well done to all.
Holme Moss Fell Race: 20th July 2014: 25.5kms/1250m
All of us had been round parts or all of the route beforehand and saw how tough the terrain was but we still turned up for the race itself!!! We knew that the advertised 25.5 kms or 15.5 miles was an understatement and in fact the race turned out to be very close to 18 miles. The weather forecast was accurate, warm but sunny intervals. The course we knew was one of the hardest of the grand prix races but very well organised and unusually 5 water stations at spaced intervals.
The first 4 miles took the runners to Holme Moss aerial and this would also be the return route. On the way out it was ok as we all felt fresh and were trying to conserve energy. However for each of us the big loop - down to Crowden, up Bareholme Moss, over to Laddow Rocks and up again to Black Hill – took its toll. So the return from Holme Moss was harder and with a near vertical 300' climb at 16 miles it was outrageous!!
Paul Taylor ran really well, his first long fell race and despite cramping several times in the final miles he managed to keep going round this proper, traditional event finishing in 4 hours 26 mins.
Michelle Fuller who has been struggling with a back injury for months now somehow managed to keep it all together and again despite cramp on the last hills she finished in a creditable 4 hours 48 mins. She also got first LV 40 prize of a technical running top.
John Cox who hadn't been able to train enough for the last few months started really slowly, conserving energy and then slowed down. Barely able to jog much for the final miles but eventually crossed the line in 5 hours 24 mins to surprisingly win a pair of gloves as 2nd V65!!
We all agreed this was a very well organised race and although very hard was really enjoyable if fit enough. Well done Holmfirth Harriers. 
Thanks also to our support team of Dave Garner and his son Finn.
Crowden Horseshoe: 31st August 2014:  8mile 1699 ft
The 9th race on the Run the Moors Grand Prix, a circular 8 mile route starting a Crowden campsite.  I  was joined by Paul Jibson, Paul Taylor and Paul Collinge. The race is a mixture of hills, muddy bogs and rocky paths.
Heading up past the youth hostel things soon come to a stand still unless you are a front runner due to a stile leading onto the Pennine way. Then the climb starts, seems never ending up past Rakes Rock and then finally as you run over Laddow Rocks the ground starts to level out. 
This leads to good runnable ground a mixture of rocks, streams and slabs to Black Hill.  Once at black hill the mud and bogs begin, my favorite section although can be very energy sapping. Over Soldiers Lump, Tooleyshaw Moss, White Low, nearly loosing my trainers a few times, sinking up to my thighs in bog over Westend Moss. After what seemed a long run across the moors I reached the descent back down to the campsite, receiving the usual cheer from fellow runners.
Another very well organized and successful fell running year and presentation : Trophies were collected by : Paul Jibson (1st overall and 1st in age group), john Cox 3rd V65, Michelle Fuller 3rd V40, Paul Taylor, Barrie Fairbrother, Paul Collinge and Craig Sutherland also collected a run the moors glass for completing 5 races.