The club enables runners to count there best marathon time as part of one of the club championship races. Please let me know if you have a marathon time : ebladesjordan@gmail.com

John Weaver 2:58:10 (Manchester)
Jordan Hughes 2:59:10 (Manchester)
Leon Wint 3:01:54 (Manchester)
Leo Cain 3:16:38 (Manchester)
Rob Bishop 3:27:00 (London)
Graham Turner 3:51:49 (Manchester)
Mick Bull 4:17:34 (Snowdonia)
Mike Grimshaw 4:40:20 (Manchester)
Steve Bassam 5:54:44 (Manchester)
Jo Lynch 3:43:37 (Dublin)
Jo Lynch 3:45:44 (London)
Amy Walker 4:11:49 (London)
Karen Hallett 4:22:28 (Snowdonia)
Teresa Hollins 4:22:59 (London)
Rose Rowson 4:28:50 (Chester)
Louise Butterworth 4:38:21 (Oulton Park)
Sharon Goldrick 4:40:20 (Manchester)
Louise Butterworth 4:50:08 (Manchester)
Jo Adamson 3:27:18 (Manchester) 43 : Handicap @ 21:50 = 3:05:28

Jo Lynch 3:42:59 (Manchester) :  32 : Handicap@ 13:34=  3:29:25

Kim Hawkesford (Chester) - 3:49:45 : 39 @17:17 = 3:32:28
Teresa Hollins - 4:07:51 : 64 Handicap@ 78:45 = 2:49:06 Handicap Winner

Karen Hallett  4:18:38 (Snowdon) 47@27:30 = 3: 51.08

Cathie Murphy 5:05:00 (Manchester) 51@36:05 = 4:23:55

Anne Lowe 5:18:25 (London) 40@18:20= 5:00:05
Jennifer Laptew 5:47:34 (Manchester)

Janine Jordan  5: 47:48  (Windermere) 36@ 15:00= 5:32:48

Leon Wint - 3:04:45 (Chester) 31@ 0:00 = 3:04:45
Rob Bishop - 3:31:54 (Chester) 39@1:30 = 3:03:04 Handicap winner

Bryan O Neill 3:59:24 (Belfast) 42@ 3:15 = 3:56:09

Mick Bull 4:12:07 (Snowdon) 68@ 44:55 = 3:27:12
Andrew Berkley 4:17:27 (Belfast)
Mike Grimshaw 4:29:51 (Manchester) 41@2:35= 4:27:16

Steve Bassam 4:50:58 (Hull) 65 @ 36:30 = 4:14:08

Terry O Nell 4:57:52  (Manchester)

Craig Sutherland 5:45:14 (Snowdon) 61@28:15 = 5:16:56
John Humphrey 3:33:57 (Leicester) 33 = Handicap (-o points) =3:33:57
David Hall 3:37:26 (London) 34 = Handicap (-5sec) = 3.37:21

Leo Cain 3:44:58 (Manchester) 38 =Handicap (-1 min 5 sec) = 3.43.53
Spencer Lamb 3:44:58 (Manchester)
Andy Berkley 3:57:32 (Chester) 47=Handicap (-7mins 40 sec)=3:49:07
Andrew Berkley 3:59:55 (Manchester)
Andy Berkley 4:00:04 (Wrexham)
Andy Berkley 4:06:48 (Liverpool)
Roland Robson 4:07:30 (Snowden) Age  = Handicap (26 mins 25) 3:39:05
Mike Grimshaw 4:09:22 (Manchester) 40=Handicap (-2 mins)=4:07:22
Mick Bull 4:21:39 (Snowden) 67 = Handicap (-41:50) =3:38:15
Colin Carter 4:28:01 (Snowden) 50 = Handicap (-11mins) = 4.17.01
Bryan O Neill 4:46:04 (Edinburgh) 43= Handicap (-4 mins) = 4:42:04
Steve Bassam 4:54:47 (Liverpool R & R ) 64= Handicap(-34 min 15 s) = 4:20:32
Steve Bassam 5:09:30 (London)
Steve Bassam 5:24:06 (Manchester)
Joanna Adamson 3:35:00 (London) 42= Handicap (-20mins :35s) = 3:14:25
Kim Hawkesford 3:45:05 (Chester) 38=Handicap (-16 mins :25 secs) =3:28:55
Toni Brackstone 3:50:17 (London) 46 = Handicap(-26 mins) = 3:24:17
Teresa Hollins 3:57:22 (Chester) 63= Handicap (-73 minutes)= 2:44:22
Isabell Richter 4:09:33 (Liverpool) 39 =Handicap(-17mins:15 s) = 3.52.18
Lauren Williams 4:23: 35 (Snowden)
Beverley O Neill 4:46:04 (Edinburgh) 41= Handicap (19mins:25)4:26:39
Rose Rowson 4:47:37 (London) 59=Handicap(-54:40 sec) 3:52.57
Anne Lowe 5:00:20 (Manchester) 39 Handicap (- 17mins :15)= 4:43:15
Laura Higson 5:02:03 (Manchester) 29 Handicap (-13 mins :40)= 4:49:03
Jordan Hughes (SM) 3:17:39

Joanna Adamson (V40) Manchester: 3:31:46

Paul Whiteman (V35) Edinburgh: 3:33:43

Brian O Neil (V40) London 3:42:13

Toni Brackstone (V40) London 3:55:13

Kim Hawkesford (V35) Brighton 3:56:00

Emma Ball (V40) London 3:57:56

Craig Sutherland (V55) Snowdonia 4:03:20

Teresa Hollins (V60) London 4:06:49

Andy Berkley (V45) Belfast 4:09:46

Anthony Walsh (V50) Manchester 4:15:20

Mark Lawson (V40) London 4:21:40

Susan Redfern (V40) Manchester 5: 08:51

Shelagh Ackers (V55) Manchester 5:13:41

Mike Grimshaw (V40) Manchester 5: 35:14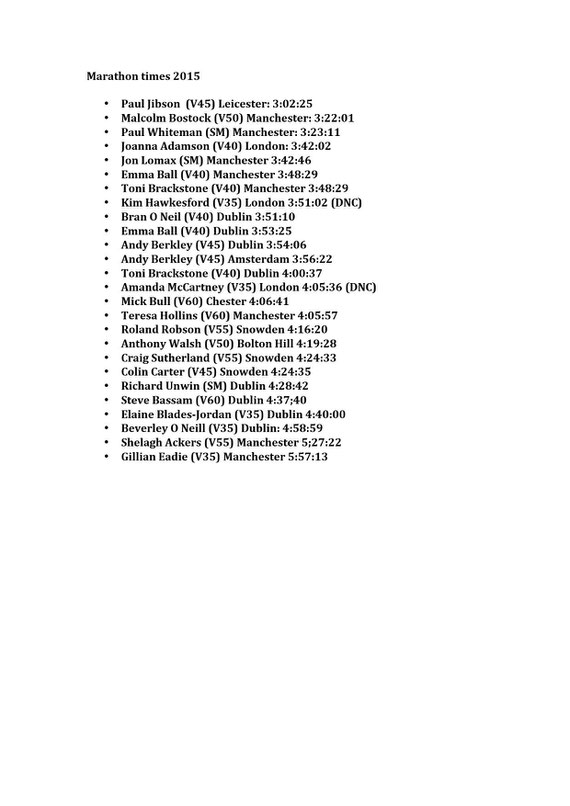 On Monday 23rd June 2014. Harriers got chance to take part in a 400 metre and 800 metre timed run at Heaton Park. We discussed completing these distances again in approx - another 3 months so that individuals can compare there times or just get chance to see what time they are running at these distances. If runners are interested in other timed distances please discuss with Jason cunningham the sprint trainer.
400 metres
Steve Lewis 1:22
Jason Cunningham 1:22
Mary Murphy 1:32
Mark Lawson 1:35
Steve Bassom 1:35
Mel Baker 1:35
Megan Murphy 1:36
Craig Sutherland 1:36
Cathie Murphy 1: 39
Elaine BJordan 1:40
Karen Hallett 1:42
Amanda M 1:46
Mick Buck 1:48
Ken Ackers: 1:49
Gill Eadie 1:53
Sue W :1:55
Caroline : 1:55
Christine C 1:58
Jenny P: 1:59
Fiona  Bolton: 2:00
Janice Pugh 2:01
Shelagh A : 2:10
Laura C : 2:10
Sarah : 2:30
800 meters
Jason Cunningham 3:15
Steve Lewis 3:19
Mark Lawson 3:19
Mel Baker 3:30
Craig S : 3:35
Mary M : 3:42
Elaine BJordan 3:43
Megan Murphy 3:43
Karen Hallett 3:48
Amanda M 3:50
Mick Buck 3:53
Steve Bassom 3:55
Cathie Murphy 3: 55
Christine C 4:05
Sue W :4:11
Gill Eadie 4:13
Ken Ackers: 4:14
Fiona  Bolton: 4:20
Jenny P: 4:28
Laura C : 4:28
Shelagh A : 4:32
Janice Pugh 4:50
Caroline : 5:11
Sarah : 5:25
 If you want a different distance timed run please speak with Jason!!

Park run End of Year News…………
Nov/Dec PB's – At Heaton Park Martin Sampson Smashed his run knocking a good minute off his time gaining a PB of 21:35, well done Martin.
First Timers; Spencer Lamb, Jordan Burke & Roland Robson all ran cracking first time runs at Heaton park this year with Spencer Lamb bagging a time of 20:08, Jordan Burke in a time of 17:57,  & Roland Robson in a time of 21:04, all setting themselves a hard time to beat, go lads..…
Old timers: Paul Jordan set himself a new PB of 26:18, that's not before time Paul, Well done.
Whilst Down At Water Groove: Mick Bull finally got his act together & stopped hanging around at the back of the pack, not one but two PB's in a row this December, "wow," 24; 22, & 23:10 . Well done Mick.  Maybe some of us should join him next year at this tough Park run.
Oldham; In sunny Oldham, Vicky Stainthorpe finally finished the season on a PB 26;48, well done Vicky, setting  her new years target.
Well traveled: Miras Eskander is one of our most well traveled Park run harrier completing Park runs in Oldham, Stetford, Bolton, Burley, Northaia Fields & Heaton Park
So how's everyone Faired over the Park run "Year 2016" ,
Miras Eskander got PB's in each of his Park runs giving him a whoping number of overall PB's.

Leo Cain & Jennifer Dixon followed this…. with 4 PB's this year, Leos fastest being 19:07 & Jens being 20:08.

Stephen Lowe & Roland Robson got 3 PB's

.

Karen Hallett, Paul Jordan, Mick Bull, Jordan Hughes managed 2 PB's this year

Whilst Vicky Stainthorpe, Elaine Blades-Jordan, Andrew Berkley, Bryan O Neill, John Humphreys, Martin Sampson & Anne Lowe all managed a measly "one"

 

- come on guys.

As we know though its not all about Pb's, just getting out for a run, for whatever the reason and some of us definitely don't stay in…..
Peter Hoyle just cant stay in bed … he's completed a whoping 206 park runs.
Andrew Berkley is not far off his 200th Park run is this just around the corner?

Paul Whiteman, Karen Hallett & Beverley O Neill have both reached over 150 Park runs well done ladies.

Bryan O Neill stays at 136 runs

Cathy Murphy, Stephen Senior, Mike Grimshaw, Mick Bull are an arms reach away from 100 (maybe next year).

Whilst Elaine Blades- Jordan, Miras Eskander, Fiona Bolton, Leo Cain all stay in the Nifty fifties.

Jen Dixon, Martin Sampson, John Humphreys, not far off 50.

Now I wont name & shame but the rest are around 20, & those with 10 , well we know who lies in then !

 

Jordan Burke & Spencer Lamb are only on 1 – but they are first timers, & so its begun.....
 Hope you enjoyed the end of season Park run News… Sorry if I missed anyone there's so many, Happy New Year ;-)
Keith Knott 16:38 -PB 2017

Ryan Lindsey: 17:09 (2010)

Jordan Burke : 17:57  (2016)


Pete Wood

:

18:10 (2017

)

J

ordan Hughes: 18:14

(2016)

Paul Whiteman: 18:35 (2015)

Leon Wint 18:51

PB June 18

Leo Cain: 18:56

PB March 2018

John O Reilly: 18:57 (2010)


David Hall: 19:01

Christopher Humble: 19:02 (2013)

Malcolm Bostock 19:07 (2009)

John Humphreys: 19:35  (2017)


Rob Bishop 19:56

:

(Dec 17

)
Spencer Lamb: 20:08 (2016)


Stephen Lowe

20:25

  3rd Feb 2018


Martin Sampson 20:36

:

Feb 18

Robert Ashton: 20:39

Pete Hoyle: 20:39


Jon Lomax 20:59

Mark Lawson: 21:06

Steve Lewis 21:42

Craig Sutherland 22:12

Mike Grimshaw 22:20


Francesca Aldred; 22:45

Stephen Senior 23:04

Mick Bull 23:10 (2017)

Stephen Granville 23:20

Peter Dean: 23:37

Bryan O Neill: 23:56

Andy Berkley: 23; 57

Barrie Fairbrother 24:26

Bob Horrocks 25:06

John Hall 25:24

(June 2019)

Paul Jordan: 25:35 (20

17)

Steve Bassom 26; 34

Mick Buck 27:54 (

2017)

Laura Higson 28:32 (

2017)
Jen Dixon: 20:08 (

2017)



Michelle Hushion 20:17 (2010)

Joanna Adamson: 20:54

Dec 17




Emma Ball 22:06

Jo Lynch

21:55 PB June 18

Rebecca Murphy 22:15

Jo Sullivan 22:54

Elaine Blades-Jordan:

23: 03 (2016)



Karen Hallett: 23:09 (2016)

Toni Brackstone: 23: 28 (2016)


Kyrinda Carter Moore – 23:55

Cathy Murphy 24:23 (2013)


Christine Brooks 24:28

Jenny Poole 24:46 (2011)

Fiona Bolton 24:49 (2010)


Isabell Richter 24:57

Christine Comerford 26:06

Anne Lowe: 26:30

PB June 2018

Christine Eckersley 26:36

Erica Weaver 27:39

Ruth Hare 28:00

Shelagh Ackers

 

28:13
Andrea McGee 28:13
Janet Hunt 28:31 (

Oct 2019)

Jennifer Laptew 28;38
Paul Jordan 29:01 PB Oct 2016

Beverley O Neill 29:05
Carolyn Jones 35:28
Laura Cunningham 35:29

 
Keith Knott 19:35 PB

April 2018

Leo Cain 21:34

(2016)

Steve Lowe 22:34

Pb Feb 2018



Roland Robson 22:57 (2016)

John Humphreys 22:53 (2017)

Rob Bishop

PB 23:01 July 18

Chris Humble 24:02 (2016)

Graham Turner 24:54

PB June 2018

Pete Hoyle 25:21 :

(May 17)



Mike Grimshaw 25:37

(May 17)



Steven Senior 26:37 (20

17)




Bryan O Neill 27:34 (2017)

TerryO Neill 28:12 (PB May 18)

Steve Bassam 28:53

PB June 2018

Mick Buck 30:02 (

Sep 17)

Steve Markham 30:58
Jo Lynch 24:47

PB June 2018

Joanna Adamson 26:19 (2016)


Lisa Jackson 27:30 (2017)

Cathie Murphy 27:58 (2017)

Anne Lowe: 28:32

PB June 2018



Beverley O Neill: 30:06 (2017)


Vicky Stainthorpe 32:59 1st timer July 18

Janine Jordan 33:54 (PB Feb 18)

Jenifer Laptew 34:43 (PB March 18)
Paul Whiteman 19:12 (2015)

Robert Ashton 20:36 (2013)

Pete Hoyle 20:40 (2010)


Bryan O Neill 21:44

(2015)

John Humphreys 20:40 (

2017)




Leo Cain 20:51

(2017)

Martin Sampson 21:38

(2017)

Antony Walsh 22:05

Mike Grimshaw 23:20 (2016)


Craig Sutherland 23:20

Stephen Senior 23:57

Andy Berkley 23:57

Steven Granville 24:32

Peter Dean 25:03

Adrian Bowcock 27:14
Peter Wood

New PB May 2017

Mick Bull : Pb Dec 24:22 2016
Steven Senior 25:49
Pete Hoyle 28:21
Steve Bassam 28:43 (2014)
John Hall 30:41 (April 2019)
Emma Ball 24:26 (2014)
Jo Adamson 25:27 (

PB 2018)

Toni Brackstone 25:36 (2014)
Lauren Williams 25:39 (2015)
Teresa Hollins 26:55
Beverley O Neill 29:42 (2017)
Miras Eskander (Stretford) 20:16 (2016)

Miras Eskander (Bolton) 20:00

Miras Eskander (Lancaster) 23:03 (2016)
Littleborough 5K Series 1&2
Jen Dixon 20:30
Joanna Adamson 21: 41
Emma Ball 21:50
Toni Brackstone 23:19
Karen Hallett 24:02
Isabell Richter 24:36
Lisa Jackson 25:01
Elaine Blades-Jordan 25:11
Cathy Murphy 25:50
Vicky Stainthorpe 26:13
Fiona Bolton 27:23
Christine Eckersley 27:39
Beverley O Neill 28:59
Ruth Hare 29:22
Natalie McConnell 29:59
Jennifer Laptew 33:17
 Littleborough 5K Series 1&2

Ryan Lindsay 16:59
Keith Knott 17:10
Jordan Hughes 17:28
John Humphrey 19:13
Leo Cain 20:08
Martin Sampson 21:14
Alan Garvey 21:55
Steve Vasiliou 21:58
Steve Lowe 22:11
Brian O Neill 22:20
Jason Harling 22:23
Rob Bish0p 22:49
Andrew Berkley 23:12
Paul Collinge 23:25
Mike Grimshaw 23:31
Stephen Senior 24:14
Craig Sutherland 24:41
Richard Unwin 24:58
Paul Jordan 25:11
Barrie Fairbrother 26:37
Mike Buck 27:39
Bob Horrocks 34:24